Aluminium Shop Front Door
  Durable Aluminium Shop Front Door Installation
If you are planning to make a decision to represent your business to the public, the best you can do is to choose an aluminium shop front door installation. Get a maintenance-free installation and an effective solution for a variety of geographical locations and different types of weather conditions. Aluminium shop front door installation can withstand snow, heavy winds, rain, direct sunlight, and snow easily. Even if you recycle your aluminium shop front doors, the tensile strength will remain the same and it will protect your property from unwanted intrusions. At Lancashire Shop Fronts, we are designing, manufacturing, and installing aluminium shop front doors for the past 20+ years and take every step possible to match up with the expectations of our clients. The rise in demand for aluminium shop front doors is that they are highly resistant to corrosion caused by pollutants in our environment. You can make a very good impression in the mind of passersby when you choose aluminium shop front door installation on your premises. We use the best quality materials and our team is knowledgeable enough to install a high-quality aluminium shop front door. We understand how important a good-looking shop front door is for your business and put our expertise into everything that we do.  
Why Choose Us For Your Aluminium Shop Front Door Installation?
Having a significant company by your side when you go for an aluminium shop front door installation will be beneficial for your property. Our team at Lancashire Shop Fronts has experience of 20+ years in delivering high-quality installation to all our clients. 
We provide a modern-looking shop front door that can increase the value of your premises and that is why our team uses new methods and techniques to achieve this goal.

We make sure that each and every rule and regulation set by the government is followed during shop front door installation on your premises,.

Our customers are our top priority for us and our team takes all the steps to ensure that lifelong relations are maintained between all our clients. 

We use high-end materials and the latest tools in each and every installation so that it stays intact for a long time on your premises.

We provide the installation for your premises according to your budget. All you need to do is to sit with our team. 

We have worked for businesses of different niches and have a lot of ideas and styles when it comes to selecting the right type of installation.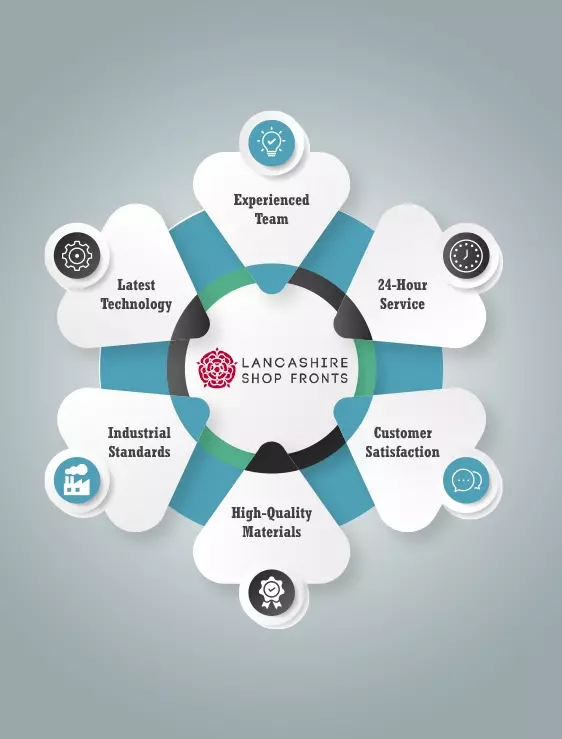 Premium Aluminium Shop Front Door Installation
Aluminium provides exceptional weather resistance and insulation properties. Doors are an essential part of your place and work as a solid barrier against intruders. Aluminium shop front doors provide safety and privacy for your premises. Their tensile strength reduces their chances of being broken or harmed by intruders and protects your property from unwanted attacks in the best possible way. Whenever we talk about modern architecture, aluminium shop front doors are the first thing that comes to our mind. No matter whether you are looking for an installation for your residential or commercial property, aluminium doors are the right choice. Their durability and strength make them last for decades without any problem, and they can last for decades without regular repair and maintenance.
What Are The Benefits Of Aluminium Shop Front Door Installation?
Designing Options
When it comes to designing, the options for aluminium shop front doors are endless. This is because aluminium can be shaped and styled in any manner and can match your expectations. As doors are a major part of your overall structure, having the right type of door is essential for your premises to look unique and stand out. 
Stability
The stability offered by aluminium shop front doors is nowhere to be found. It does not bend no matter what type of temperature prevails. Even in extreme weather conditions such as heavy winds, rain, or sunlight, such an installation remains intact and lasts for a long time. Even when it is exposed to moisture, it does not swell up or corrode.
Easy To Maintain
Aluminium shop front doors are one of the easy-to-maintain installations on your premises. They are maintenance-free as they don't need professional help now and then. Along with this, all you need to do is wipe your doors with a clean cloth and any amount of dirt, dust, or debris will be wiped off. If you think the stains are rigid, a cleaning solution can be used. 
Contemporary Look
To give a modern look to your premises, you can opt for aluminium doors. Such doors not only protect your property from intruders but are available in a variety of colours, you can choose the one that goes with your colour scheme. Even if you have traditional premises, a simple aluminium door installation will give them a modern look.
Versatile
Aluminium is a very versatile material as it can be recycled as many times as you desire and still won't lose its strength. If you want to change the design and shape of your existing aluminium shop front doors, you can easily do that without any additional to your expenses. You can also change the color of your installation according to your property.
 Durable
You will not find a more durable material than aluminium for your shop front door. Such an installation will not break no matter how much force is used. Store owners can be at peace when they have aluminium shop front doors on their premises. They are the best installation to keep your assets, employees, and clients safe and sound. 
Whenever you are looking for a new installation for your premises, to make it safer and more secure, look no further than the aluminium shop front door installation in your premises. As a premium installer of aluminium doors, Lancashire Shop Fronts provides all the services according to your requirements and within your budget. 
Trusted Partners
We are always overwhelmed with our partners via the core and ethics. We maintain a stable relationship with our clientele.